The Optical Time Domain Reflectometer (OTDR) is a vital tool for fiber optic testing that can analyze the performance of fiber optic cabling through the use backscattering technologies, as well as identifying and locating connectors, splices, and breaks in fiber optic networks.
However, there is an unwanted phenomenon known as 'dead zone' that occurs when using an OTDR, which can cause improper readings if the right steps aren't taken. This dead zone limitation can be avoided through the use of an OTDR Launch Box, which is what we review in more detail here.
The Launch Box Basics
The launch box, which is also known in the industry as a launch fiber, pulse suppressor, dead zone box or fiber ring, is a device that helps to eliminate the dead zone issue during fiber optic testing significantly. The dead zone is something that occurs when the pulse width changes and causes a high degree of reflection that can cover an area several hundred meters from where the OTDR is located. This results in the OTDR device not being able to detect events or issues in that area.
A term launch box is a box that contains a long spool of fiber that is placed in between the fiber being tested and the OTDR. This provides extra fiber on which the dead zone can occur. This enables the OTDR to now detect events at the beginning of the fiber being tested.
Using Your Launch Box
Launch boxes come in various shapes and sizes. However, all tend to have a robust outer casing to make them more durable. Each end of the fiber is terminated, with one to be attached to the OTDR and the other to the fiber being tested. Once connected to the relevant ports, the test can be run accordingly.
While using an OTDR box is a relatively simple process, you must be sure that it contains a sufficient length of fiber to take account of the entire dead zone or you still won't achieve a proper reading on your trace and could miss events. Choosing the right OTDR launch box is important, as they can be customized to the specific application or device.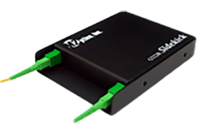 M2 Optics OTDR Sidekick Launch Box Solution
Choosing the Right One
When choosing the right OTDR launch box for your needs, you should approach it in the same way as you would choose a fiber patch cable. Box styles along with features such as connector type, fiber type, and fiber length should all be determined. Furthermore, some launch boxes are available with bulkhead adapters while others provide directly terminated fiber ends.
As mentioned before, a dead zone can cover several hundred meters, so your launch box spool should be long enough to cater for this. It is important to make sure you choose one that suits the job, and your OTDR user manual can provide guidance regarding the expected dead zones.
Learn More
If you would like to learn more about anything else relating to packaged optical fiber solutions, network simulation, and latency/time delays, please get in touch with us at M2 Optics by calling us on 919-342-5619 or, visit our website www.m2optics.com.
Since 2001, M2 Optics has been an established manufacturer and innovator of professional optical fiber platforms for fiber network simulation, latency / optical time delay, training, and demonstration applications. Our customer base includes many of the world's most recognized communications service providers, equipment manufacturers, data centers, web service providers, financial institutions, research institutions, and government agencies.