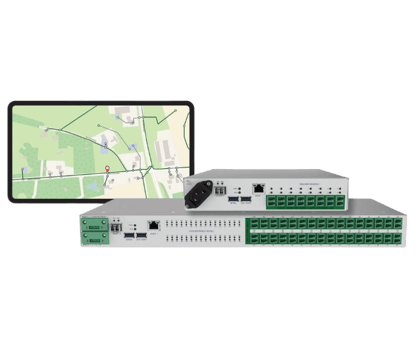 Detect and Resolve Fiber Breaks & Intrusions
Detecting serious physical network infrastructure issues like accidental fiber cuts, intrusion attempts, and malicious tampering has never been easier than utilizing this Fiber Monitoring System from M2 Optics. The first solution approach in the industry that was designed to minimize monitoring costs on a per-fiber basis, all the hardware and software is integrated into a single low-profile chassis for fast deployment to cover your critical links.
Key Benefits:
Monitors of up to 64 fibers in a single 1RU unit
Useful for both Point-to-Point (P2P) fiber links and PON networks
Monitors dark and lit fibers up to 160km in distance
Fault localization to within meters for precise and rapid service deployment
Integrated 1xN optical switching for continuous and/or on-demand link testing
Quick installation and setup
Minimizes operational costs and labor hours resolving fiber issues
Save Valuable Time and Money
Whether you are a broadband provider seeking to maximize service uptime and connectivity for your subscribers, a municipality ensuring the integrity of 9-1-1 emergency communications, or a field technician team that is tired of wasting hours searching for a fiber break in the middle of the night, this system is a proven to add immediate value to your operations.

For pricing and technical information or to request a live, online demonstration of the fiber monitoring system, contact M2 Optics today.