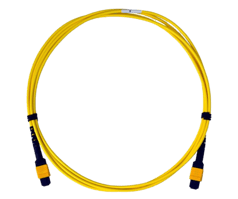 MTP® Elite Cables reduce insertion loss by up to 50% compared to standard MTP cables. Since elite cables must meet strict manufacturing guidelines, including size and position of guide pins and holes that create and maintain proper connection. They provide superior performance for the most demanding network environments. Offering a wide array of configurations and using the highest quality optical fibers and connectors from USConec®, these cables are ideal for 10G, 40G, and 100G applications and systems.
M2 Optics will custom build to your specifications, offering a variety of length and connector configuration options with 12 fiber or 24 fiber MTP or fan-out style cables to meet your exact networking requirements.
How do these MTP® Elite cables deliver superior performance?
Highest quality optical fibers:
Corning® single mode optical fiber
Draka® OM3 and OM4 multimode fiber

Official MTP® Elite connectors manufactured by USConec®

Manufactured in an ISO7, class 10000 clean room

Testing beyond IEC standards with advanced technology
Key Benefits
Corning® and Draka® optical fibers

USConec® MTP® Elite connectors

Low insertion loss
Customized configurations
Ideal for 10G, 40G, and 100G networks
Contact M2 Optics today for more information, or to discuss your specific project requirements.