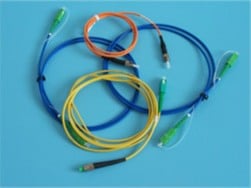 Protect your Fiber With Armored Cable
If you're looking for something stronger than a standard path cord, armored patch cords serve the same purpose with much more strength, and the same flexibility as a standard cable. By using the same outer diameter, armored patch cables can help you save space while protecting your fiber.
Customizable to your fiber, armored fiber cords can be made with many types of connectors, including LC, SC, FC, ST, LC/APC, SC/APC, FC/APC, and others. M2 offer armored fiber patch cords and standard and non-standard lengths. Proven to provide consistent and high reliability and stability. Both simple and complex varieties have the same jacket, armored cord, and Kevlar strength members with the only difference being the coating on the fiber. With excellent return loss (SCAPC typical: >65dB), low insertion loss (typical: <0.2dB) and are rugged, flexible, and easy to install. These assemblies are superior for rough handling applications such as head ends, engineering, and lab environments.
Benefits of Armored Cords
Rugged and flexible

Low insertion loss

High return loss

High reliability and stability
Applications
Telecommunications networks

CATV; Data Distribution

Local Area Networks

Passive Optical Networks
If you're ready to learn more about armored patch cords and if they are right for you, contact M2 Optics today and start customizing your fiber solution.
Detailed Information:
Download Data Sheet