Fiber Optics Training Solutions
M2 Optics carries different solutions for fiber optics training. Whether you are looking for portable training devices or training devices for the classroom, we have a solution that will meet your needs.
Fiber Lab MSP
Simulates P2P, PON/FTTX, & cell tower spans
Integrated fiber events - splitters, splices, connectors
Ideal for test device demonstrations, testing, and training
Rugged, portable case for easy handling

Learn more about the Fiber Lab MSP
In addition to network simulation applications, the Fiber Lab 800HE from M2 Optics is a professional optical fiber platform that enables technicians to practice using an OTDR device to find splices, faults, or bad connections in a length of optical fiber. In addition to training, it can also be used by equipment servicing teams to calibrate OTDRs with fiber that includes pre-determined events at known points, and OTDR dead zones.
All you have to do is simply specify the total length and type of fiber, as well as the specific intervals at which attenuation "events" should be placed, and we will build it to your specification. This supplies technicians with the best OTDR solutions on the market.
The extremely rugged enclosure offers maximum protection and durability, making it superior for long-lasting use and handling in the lab or classroom. In addition, the enclosure includes a convenient storage area for patch cords or other fiber optic accessories.
Sidekick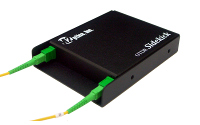 Designed in the USA, the Sidekick is a lightweight device to help technicians find and eliminate the dead zone at the beginning of fiber cable while using an OTDR. Each fiber testing unit can be fully-customized to fit each user's unique specifications, and offers any type and length of fiber, up to 1 km.
Sidekick Plus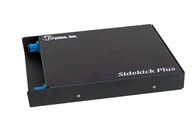 The Sidekick Plus offers the easiest and most efficient way to accurately simulate in-fiber events including good/bad splices, reflective connectors, and fiber/mode field mismatches. Ideal for equipment manufacturers that need an effective way to demonstrate their device to potential customers, or for fiber optics trainers teaching new technicians how to use an OTDR. Experience a complete fiber link with expected real-world events right in the palm of your hand with a fully customized Sidekick Plus.
Design a Sidekick
Fiber Type: any single mode, multimode, or specialty fibers
Fiber Lengths: any custom length up to 1km
Connector Type: LC, SC, FC, ST
Interface Type: Style A or Style B
Customize Your Fiber Lab Training System
Did you know that any Fiber Lab enclosure can be pre-configured by M2 Optics as an OTDR training platform or include events?
For example, the Fiber Lab Flex serves as a great multi-fiber solution with the option of either using the OTDR fibers in a rack-mount fashion, or removing each customizable, individual module for portable classroom use:
Up to 10 individual fiber lengths; 25km max each

Each fiber length stored in a removable module for rack-mount or portable usage
With a wide variety of both portable and rack-mount enclosures available for OTDR testing, contact us to discuss the best possible solution for your classroom/laboratory.
Downloadable Product Sheets