The Optical Fiber Identifier is a useful device for network technicians that identifies specific optical fibers by detecting the optical signals being transmitted through them.
This high-performance fiber identifier from M2 Optics is a very easy-to-use tool that detects signal traffic at 270Hz, 1kHz, and 2kHz frequencies. It can be used with single mode fibers from 900nm to 1700nm having cable jacket diameters of 0.25, 0.9, and 3mm sizes.
As an added value, this device offers the option to include a 10mW visual fault locator, further enhancing the user's capabilities when testing and evaluating fiber cables.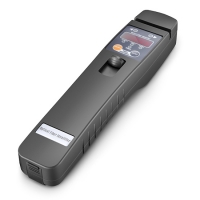 For additional technical specifications and pricing, simply complete the form on this page and a member of the M2 Optics team will respond promptly with the information that you require.