Dispersion Compensating Fiber Solutions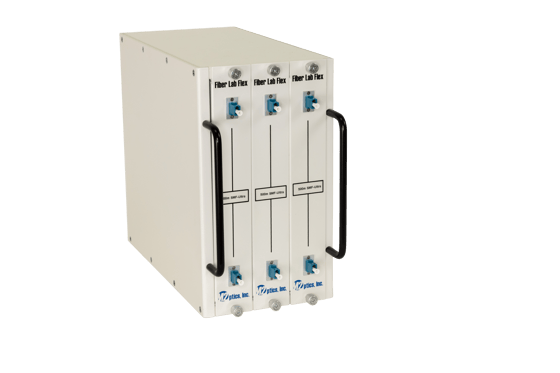 Features:
Ideal for long haul applications

Reduces chromatic dispersion in single mode fiber

Compensates for distances 5km - 120km
When you need to reduce chromatic dispersion in field networks, M2 Optics offers dispersion compensating fiber solutions. Since dispersion in fiber is inevitable, incorporating dispersion compensating fiber into your networks or labs can help to reduce the chromatic dispersion especially in long lengths of single mode fiber. Dispersion compensating fiber from M2 Optics is used for correcting dispersion effects created over distances within G.652 single mode optical fibers. Offered in a 19" chassis for rack or bench top use, these high quality testing platforms are easy to work with and provide consistent, repeatable results.
Dispersion compensating fiber is designed for data centers who need long haul time delays, or for lab/network environments that need long haul applications. When running underwater fiber networks, DC fiber can also assist in submarine applications. This solution can compensate for distances from 5km to 120km, but will welcome and review any inquiries for very specific or non-standard lengths as well.
M2 is proud to offer a full line of optical fiber types, portable spools, rack and rack mount enclosures available in custom configurations including dispersion compensating, optical time delays, and zero chromatic dispersion. Customize your solution by fiber type, length, delay value, connectors, and rack mount or portable enclosure.
To customize your dispersion compensated fiber or time delay, contact our team of engineers.
Ideal Applications for Dispersion Compensating Fiber:
In-network Dispersion Reduction

Testing
What is Dispersion Compensating Fiber
Dispersion compensation is the technique which combines two fibers of different chemical makeups (one negative dispersion value and one positive dispersion value) so that the average chromatic distortion of the total fiber link is zero. Managing dispersion in fiber optic cable can be used to reduce the impact of nonlinearities when short pulses are transmitted through a fiber. Peak power is reduced as the pulse travels through the first fiber, and all nonlinear effects weaken. The pulse is then compressed in the second fiber and restored to its original shape. By splicing together a shorter distance of DC fiber and a long distance of single mode fiber, the dispersion in the fiber is compensated for.
To learn more about dispersion compensating fiber, contact our team.
Related products