The efficient Flex-PON system is ideal for PON testing and training applications, as it is both customized to the user's requirements and easily re-configured for changing requirements.
September 16, 2015 (Raleigh, NC) M2 Optics Inc., the leading manufacturer of packaged optical fiber solutions for network simulation and latency applications, has announced the availability of a new Passive Optical Network (PON) simulation platform. Utilizing their existing Fiber Lab Flex chassis, M2 has designed and integrated 1xN fiber optic splitter modules into the chassis, providing for a complete end-to-end PON in the most efficient setup.
Traditionally, simulating a PON in the laboratory required piecing together separate components often from multiple vendors (optical fibers, optical splitters, etc) in a manner that was typically not ideal in terms of either cost or space usage. In some cases, these approaches would combine one or more optical splitters with just 1-2 standard lengths of fiber, to demonstrate the expected signal loss for a single output. While this may be suitable for basic tests, M2 realized that it does not allow for exactly simulating an entire point-to-multipoint PON - which needs to include all the specific fiber lengths and related characteristics found in a real field network.
With the Flex-PON solution from M2 Optics, a user is able to exactly simulate a PON using a single 19" rack chassis. With 10 available slots in the chassis, each removable module can be customized with any fiber type and length up to 15km per module, or used as a splitter module. The result is a complete setup that offers almost limitless combinations of feeder/distributions fibers, optical splitters, and drops fibers. Furthermore, individual modules and chassis can be added at any time, allowing a user to cost-effectively scale and/or re-configure their setup as needs change over time.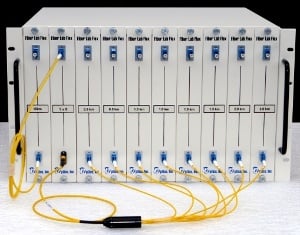 Shown: Flex-PON with 15km feeder fiber, 1x8 splitter, and 8 drop fibers with varying lengths from 500m-2km
"While many leading organizations already use Fiber Lab platforms to simulate field networks, this latest enhancement to the popular Flex system makes the solution a must-have for PON testing, training, and demonstrations," states Kevin Miller, CEO of M2 Optics. "It not only offers maximum flexibility and customization for the user, but does so in a highly efficient and professional setup that will satisfy the most demanding applications."
Since every Flex-PON solution is customized to exact user requirements, pricing will vary based upon a number of variables including fiber types and lengths, splitter types, and the number of modules required.
For more information or to discuss a solution for your specific application, please contact M2 Optics (www.m2optics.com / 1-919-342-5619) or an authorized global sales partner at your convenience.