Companies team up to develop LightClick management software for M2's SwitchLight solution. The companies will display the solution at Interop 2014 in Las Vegas at the Mandalay Bay Convention Center, in Narra Systems' Booth #2166, from April 1st-3rd.

Raleigh, NC - M2 Optics Inc. announced a formal partnership with Narra Systems LLC (San Jose, CA), as the two companies have worked closely together to develop LightClick, the proprietary management software offered with M2's patent-pending SwitchLight solution.
In January of this year, M2 released SwitchLightTM, an entirely optical switching platform that offers a level of flexibility not previously achieved by any existing equipment in the market. Using just a single chassis to minimize rack space requirements, the all-optical and customizable SwitchLightTM is capable of addressing multiple applications related to network monitoring and multicasting in a very cost-effective manner.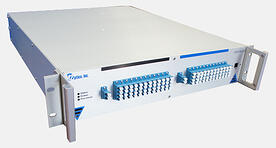 SwitchLight / Duplex 1x48 All-Optical Switch
When it came time to build a software management platform for SwitchLightTM, M2 Optics leveraged Narra System's open-source platform to deliver a management system that is not only simple to use, but also capable of integrating into a variety of customer environments due to several built-in APIs. As the market continues to evolve with SDN, OpenFlow, and any other future technologies, LightClick's open platform ensures that SwitchLightTM is a future-proof system that network operators can rely on.
"We wanted a software platform that was powerful on the back-end and simple to use on the front-end. With the multiple functions being performed within one chassis or across many, we needed a platform that could handle the flexibility and scalability our customers demand. Using Narra's talented team to accomplish this also enabled us to integrate seamlessly into our customers' environments thanks to the included TCL/PERL/Python APIs and easily upgrade the systems to support other technologies and protocols such as SDN and OpenFlow," said O.J. Johnston, General Manager of Switching Systems at M2 Optics.
"Basing M2's LightClick software on our core automation and orchestration platform gives M2 a solid and reliable management platform that can easily adapt to cross-market needs. Whether customers use SwitchLightTM in a test lab environment with a handful of APIs, or on a live network requiring control plane integration, LightClick will be there to handle their needs", said Reuel Gatus, CEO of Narra Systems.
M2 Optic's SwitchLightTM product is currently shipping with LightClick and has been purchased for use by various entities in the carrier and government markets. Narra Systems' software is being used in test lab automation and cloud orchestration environments around the world.
To learn more about M2 Optics, Narra Systems, or the LightClick software platform, please contact the companies directly at their respective offices.