With the explosive growth of global bandwidth demands, data centers and service providers have been busy adding new fiber infrastructure, interconnects, and upgrading their systems and hardware to newer and faster technology. As part of this, both latency and optical signal synchronization are critical factors that engineering teams must manage in order to maximize performance and support their customers across various industries.
One of the ways signal timing is addressed is by deploying optical time delays. These fiber delays allow engineers to fine-tune their systems in incremental fractions of time, often as short as nanoseconds, but the key is deploying them in the most effective and efficient manner.
What Drives the Need for Equalization and Synchronization?
Meeting Contractual Obligations
When data centers enter into Service Level Agreements (SLAs), they commit to delivering specific levels of performance including latency, especially when supporting time-sensitive entities like stock exchanges, banks, and high-frequency traders. Since the customer is paying for a specific latency value, there is an expectation that they will be receiving the same level of performance and throughput as others paying for the same service (ie, one entity will not have an advantage over another). Given that gear is often located in different racks or locations within the data center, meeting the SLA and equalizing latency across all customers on that service is a major challenge. To help overcome this challenge, using optical time delays to equalize all applicable fiber links is one helpful element in the overall solution (note: other factors such as structured cabling, the gear/hardware itself, etc. all contribute to latency in a network as well, which also must be managed as part of addressing the total solution).
Differences in Installed Network Technology/Gear
As technology evolves and engineering teams select and deploy newer equipment as part of their fiber infrastructure, it typically happens in phases and not all at the same time. With performance differences between new systems and legacy systems that are working together, signal timing/synchronization and subsequent latency impacts are an important issue to address. Along with system adjustments, deploying optical time delays to match timing is one way that these timing obstacles can be overcome.
Complying with Regulatory Requirements
Similar to SLAs between a data center and its customer, government and regulatory measures can also drive the need to equalize service offerings. As an example in the EU, The recent Markets in Financial Instruments Directive (MiFID) outlines regulations around transparency and disclosure for firms operating in the European Union. The MiFID II reform legislation outlined that financial "trading colocation services... are fair and non-discriminatory and do not create incentives for disorderly trading conditions or market abuse." In other words, the goal is to ensure a more fair and transparent financial trading market. Part of this meeting this type of requirement at a data center or financial institution includes equalizing link for all traders on the same platform.
"DIY" Solutions are Time Consuming and Inefficient
To address these areas, some data centers have taken the approach of building makeshift setups in the facility as opposed to finding a partner that specializes in this area. While it may work initially, often times these approaches are not designed as efficiently as they can be and do not scale well. Additionally, as seen in recent years, constant market and technology changes result in the need for greater precision, performance, and space-efficiency.
Building customized, optical time delay solutions with a high level of precision is not an easy or simple task – it requires advanced manufacturing and testing equipment, experienced people, specialized processes, and significant amounts of time especially as complexity increases. Self-built setups that worked several years ago may not even compare to what is required now to deliver the expected results, and ultimately become a cost-prohibitive service for customers that may require this as part of their network.
M2 Optics – The Specialized Partner You Can Trust
With the recent announcement of the patent-pending Fiber Lab Flex DC, M2 Optics now offers the highest-density, fully-customizable platform available for engineering teams that need to deploy optical time delays to equalize link latency or address these related critical systems applications. Partnering with M2 means that engineers can rely on effective way to deploy optical time delays quickly, while not having to waste time and costs on an inferior or unproven approach.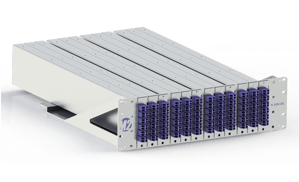 This 3RU rack chassis accommodates up to 12 high-density modules, each holding up to 12 fiber delay spools for a total of 144 time delays. Along with saving significant rack space, it allows the user to easily add, re-configure, and control their setup configuration as business and customer requirements evolve. To meet today's stringent demands, each time delay can be built with sub-nanosecond accuracy, delivering an unmatched level of performance.
Contact M2 Optics today to learn more about the Fiber Lab Flex DC Optical Time Delay Solution and why the world's most recognized Data Centers, Stock Exchanges, Banks, and Trading Firms have chosen M2 Optics as their trusted, select partner.