The versatile Fiber Lab 750 from M2 Optics offers multiple lengths of optical fiber in just 3RU, saving 50% or more rack space for engineers.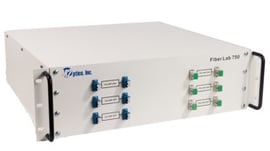 Shown: Fiber Lab 750
Raleigh, North Carolina: M2 Optics Inc., the leading manufacturer of packaged optical fiber solutions for network simulation and latency applications, has reported increasing demand for the Fiber Lab 750 platform, the latest in their series of packaged optical fiber solutions. The Fiber Lab 750 delivers a seamless combination of flexibility and proficiency in a smaller, more efficient footprint.
"Saving rack space is often a key objective for many engineers in today's communications arena," said Kevin Miller, CEO of M2 Optics. "Whether there is a requirement for longer length of fiber to simulate a regional link or multiple coils for introducing optical time delays, the Fiber Lab 750 maximizes user value by providing even more fiber in less rack space."
Similar to the rest of the Fiber Lab portfolio, the Fiber Lab 750 is fully customized to the user's specifications. In the 3RU, 19-inch rack mountable unit, it allows for multiple lengths of optical fiber, with a maximum capacity of 150 km. Having been on the market for several months, the Fiber Lab 750 has quickly become one of the most popular solutions chosen for test labs at major service providers, data centers, and government entities.
M2 Optics customizes fiber solutions based on you individual needs, including fiber type, length, housing, etc.
To learn more or begin designing a solution for your specific application, please contact M2 Optics at (919) 342-5619 or visit their website at www.m2optics.com