The customizable Fiber Lab 250HD from M2 Optics provides a versatile solution for communications service providers, test labs, and research institutions.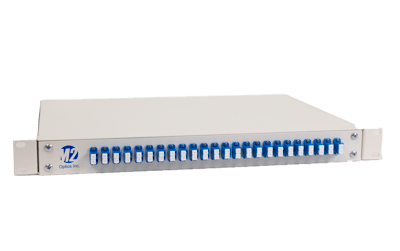 Shown: Fiber Lab 250HD with 24 each 1 microsecond delays
Raleigh, NC - M2 Optics Inc., the leading designer and manufacturer of professionally packaged optical fiber platforms for network simulation and latency applications, announced the new Fiber Lab 250HD, the latest in their popular and growing portfolio of specialized solutions. Offering up to 24 optical fiber coils in just a 1RU footprint, the Fiber Lab 250HD was designed for entities requiring multiple optical time delays in the smallest amount of rack space.
"This enhanced version of the low-profile Fiber Lab 250 greatly benefits network engineering teams tasked with deploying a significant number of optical delay lines for signal timing and other latency-specific applications," states Kevin Miller, CEO of M2 Optics. "Not only is saving rack space a major benefit, but the ability to connect multiple delay lines together when necessary to match changing system requirements results in even more versatility for the user."
Every Fiber Lab 250HD is fully customized to the user's exact specifications with virtually all fiber types from leading manufacturers available. In addition, M2's in-house, advanced fiber spooling capabilities enable users to receive very specific lengths of fiber based on the desired time delay or distance requirements. Whether an engineer needs to deploy a larger number of brief time delays or a fewer number of longer delays, the FL250 HD can serve as a valuable tool in the network environment.
To learn more or begin designing a solution for your specific application, please contact M2 Optics at (919) 342-5619 or visit their website at www.m2optics.com