As the use of mobile applications and services that require increasingly more bandwidth continues to grow, wireless service providers must find cost-effective and efficient methods for meeting the bandwidth demand. Legacy transport networks are no longer capable of adequately serving today's cell sites. Newer technologies such as GPON, WDM-PON, and Ethernet over CWDM/DWDM are all well-suited to cost-effectively address the growing bandwidth needs of wireless service providers. Regardless of the technology used, M2 Optics' SplitLight product is an integral part of the solution.

GPON
While GPON has been adopted as a technology of choice in high-speed access networks for inexpensive residential service delivery, more recently, it has begun to spread into business access. With the ability to deliver up to 10Gbps per GPON port, it can also be a cost-effective technology for delivering higher bandwidth to cell towers.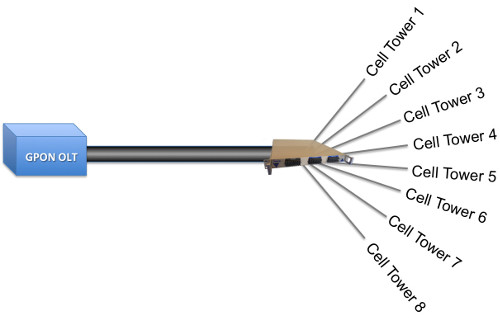 Figure 1: GPON Network
Whether the GPON splitters are collocated with the OLT or distributed in the field, it is likely that a multiple of splitter modules would be needed to handle each serving area. To aid with this, the SplitLight HD can provide up to 16 GPON splitters in a single, 1RU chassis, while traditional solutions can only provide a single GPON splitter in the same footprint. In addition, legacy LGX solutions would require at least 4RU to deliver the same density.

WDM-PON
Building on the advantages of GPON, shared infrastructure and a single OLT transponder, WDM-PON provides the added advantage of delivering a dedicated wavelength to each ONT. Unlike GPON, WDM-PON does not use a splitter. Instead, an Arrayed Waveguide Grating (AWG) is used to multiplex and de-multiplex wavelengths between the feeder fibers and distribution fibers. The result is dedicated bandwidth and a more secure network for each subscriber, or in this case, cell tower. Another advantage of WDM-PON is the ability to add/drop wavelengths at intermediate cell towers that lie between mobile switching centers.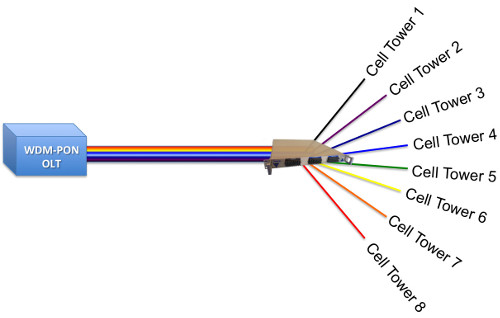 Figure 2: WDM-PON Network

As with GPON splitters, it is likely that multiple AWGs would be required at both ends of the WDM-PON network. The SplitLight HD can also house up to 12 AWGs in a single, 1RU chassis. In addition, the SplitLight HD has the flexibility to also house passive OADMs for the intermediate add/drops.

Ethernet over CWDM/DWDM
Of course, one of the best ways to increase bandwidth to fiber-served cell towers is to simply increase the bandwidth capacity by delivering multiple wavelengths to sites that are approaching network saturation. The simplest way to do this is to use passive CWDM and DWDM multiplexers/de-multiplexers.


Figure 3: Ethernet over CWDM/DWDM

As with WDM-PON, passive OADMs (Optical Add-Drop Multiplexers) can be used to add/drop one or more wavelengths at cell towers between mobile switching centers.


Figure 4: OADM Function

Similar to the other technologies previously mentioned, M2 Optics' SplitLight HD is capable of providing both the CWDM/DWDM muxes as well as the passive OADMs. Up to 16 mux/OADM modules can be housed within a single SplitLight HD chassis.

Summary
As mobile data traffic continues to increase, carriers must find the most cost-effective and efficient solutions for delivering bandwidth to each tower. Technologies that allow for a shared infrastructure enable carriers to realize a more immediate ROI. However, proven solutions for FTTH, such as GPON, might not be enough for mobile backhaul due to their shared bandwidth, which will likely experience more contention for bandwidth even on 10G GPONs. In such cases, WDM-PON or Ethernet over CWDM/DWDM solutions could be the answer. Regardless of the underlying technology, SplitLight can accommodate any passive optical networking need in the most cost-effective and efficient manner.