Wide Area Network Emulators, or WANem, are designed to simulate WAN connections for use in laboratory settings, and makes for a good delay simulator as well.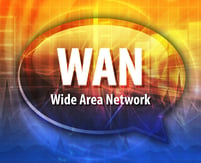 By calculating the interactions between different network entities, WAN emulation creates artificial delay, bandwidth constraints and other impediments and functions.
This functions as a way to gauge applications and protocols against actual conditions. WAN characteristics like packet loss, disconnections, jitter, and time delay can be mimicked over a transparent application gateway with a WANem. This unique test condition allows users to bring the internet into their development, laboratory or test environment.
Recreating the restraints imposed by the internet with a WANem allows the user to see the different ways their packets are affected by the traffic on the internet. Packet speed, packet drop, bandwidth restrictions and disconnects increase response times and inhibit application throughput. WANem is widely used during the design stage for communication networks before they are deployed live.
In a typical WANem setup, real packets from a live application are sent to the emulation server. These real packets are modulated into a simulation packet; in turn these packets are demodulated into real packets. These packets have experienced the effects of loss, delay, network jitters, etc., thereby transferring those network issues into the real packet. It's as if the real packet had traveled through real networks, when in reality it has only gone across a simulated network.
Behaviors of the networks, services, and applications can be observed in a test lab. Different attributes of the environment can be modified in a controlled, consistent and repeatable manner to facilitate the assessment of the network's responsiveness under certain conditions. Capturing and replaying these observations from the production network provides real time and actionable data to the development team.
WANem also allows the development team to emulate a realistic WAN environment before data and voice applications are moved into production. Knowing how your applications respond in high latency environments or if packets are dropping is critical to the success of your applications.
Failure to understand the effects of various network types on the applications behaviors can result in poor performance. With the highly unstable tendencies of the internet, having a cost effective testing environment is crucial. WANem is quickly and easily setup in any intuitive web interface or development environment.
If your company needs help with a working delay simulator, be sure to call the experts at M2 Optics today. We can help you with any questions and would be happy to provide you with a free quote.