When fiber optic field technicians need to test the integrity of a fiber optic cable, they use an Optical Time Domain Reflectometer (OTDR) device that identifies and pinpoints issues like breaks/faults and poor splices, while also certifying the cable length. To find and resolve issues in the fiber cable quickly and efficiently, it's critical that they not only have a reliable OTDR device, but just as importantly know how to use it properly in terms of selecting the necessary settings and interpreting the results correctly. This is achieved by receiving thorough training in the classroom prior to heading out into the field.
How OTDRs work
At a high level, an OTDR works by sending a light pulse down the fiber then recognizing any backscattered light resulting from an event in the fiber. The OTDR trace (displayed results) show the specific location(s) of any events, along with measuring and displaying other results like attenuation/loss values of the fiber optic cable. When a cable is initially installed and prepared, an OTDR is often used to take an initial scan of the new cable to certify continuity and to measure and record any known loss events like connectors, splices, etc. Later on, if issues or faults should ever occur or are suspected, a technician will once again connect to the fiber with an OTDR to capture a new trace to compare to the old one. This new trace will help the technician to identify what the exact issue is and where it is occurring in the cable.
Because a longer pulse is required to reach a longer distance for lengthy cables, a "dead zone" of several meters can occur directly after the first connector, resulting in any issues directly after the connector not being identified in the trace. To solve this issue, a launch cable (sometimes also referred to as a launch fiber or launch box) is used with the OTDR. The launch cable provides another length of fiber ahead of the cable being tested, thus eliminating the dead zone of the cable being tested by allowing the signal to settle out prior to the first connector and identify any issues just after the first connector.
OTDR Training - Simulating a Field Network
Training technicians on live networks isn't always feasible or ideal, so being able to effectively simulate networks in the classroom setting is important. M2 Optics' Fiber Lab portfolio offers portable OTDR training solutions for the classroom that accurately simulate real-world events (connectors, splitters, loss issues, etc), different lengths, and various types of fiber that help technicians learn and translate their skills to working in the field. Whether needing to simulate short 5G cell tower spans or test a complete PON network over 20km, Fiber Lab offers a great solution for the classroom environment.
OTDR Training Solutions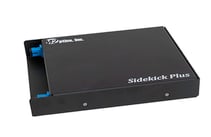 Sidekick Plus
Handheld P2P simulator

Includes multiple inline fiber events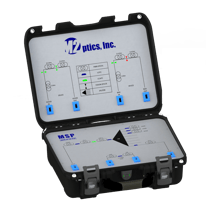 Fiber Lab MSP
Extra-rugged case

Over 20km of fiber with P2P and PON fiber events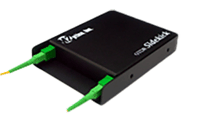 Sidekick
OTDR launch fiber module for field and training use

Up to 1km with pass-through or fixed interfaces
Learn More about OTDR Training Solutions
M2 Optics has one goal - improve the way you manage and use optical fiber. Specializing in custom-built network simulation solutions for training applications, our experienced team is available to help you determine the best solution for your needs. Contact our team for more information.