With fiber optic equipment now widely used in most communications systems, it is crucial that administrators and service personnel have an efficient solution in place for dealing with issues directly related to the physical network. While there are many Network Management Systems (NMS) being utilized, most will send an alert if a specific piece of equipment fails, but are not a help in locating the problem if it should occur to the line itself. Therefore, while a failure will often be recognized quickly, much time can be lost in sending a technician out to locate and fix the specific issue.
Common issues that occur on a frequent basis include fiber faults or breaks due to accidental damage (ex: construction work), degraded connections, and even fiber tapping attempts to steal proprietary data for illegal use/activities. In all cases, it is crucial that the problems be resolved rapidly, or else your business can be put in serious risk due to poor service and/or loss of valuable data.
Fortunately, cost-effective solutions are now available that provide real-time monitoring of optical network lines while pinpointing the issue(s) to within meters. Since the monitoring interfaces are web-based, businesses can proactively ensure their network is running smoothly 365/24/7, while significantly reducing service downtimes when something should occur. Fault localization allows technicians to spend far less time finding the problems and more time resolving them. These solutions (like the FiSEC Fiber Monitor below) require minimal setup time, run on either active or dark fibers, and do not interfere with any of the data being transmitted.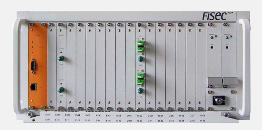 FiSEC Fiber Monitor

While risks vary by business or industry, a fiber optic network monitoring system can offer great benefits if it is not something that has already been implemented. In addition, it will set your business apart from others in terms of your service offering, as you can quickly resolve issues before they have the chance to escalate.
Industries Actively Monitoring Optical Networks (partial list)
Banking and Financial (monitor data to/from data centers, compliance laws)
Telecom and Cable providers (PON & FTTx networks)
Government and Military agencies (protect against terrorism/espionage)
Utilities and Power Plants (ensure communication; protect against terrorism)
Transportation (ensure communication for airports, railways, etc)
IT & Network Installers (additional service offering for customers)