Benefits of Using Customized Products for Fiber Optic Networking Applications
When designing fiber optic communications equipment or architecting a network, engineers spend a great deal of time evaluating, selecting, and certifying equipment to match the project's needs. During this process, deciding to utilize either off-the-shelf style products or customized style products for satisfying specific engineering or network goals is very important and can have major ramifications on the outcome of the project. This article will briefly review these two categories of fiber optic products as both have their place in fiber optic communications systems, then discuss how using customized products in specific instances can deliver greater ROI.
Off-the-Shelf and Custom Fiber Optic Products
For the purposes of this article, let's discuss what is meant when referring to off-the-shelf products and custom products.
Off-the-shelf refers to products and parts that are generally manufactured in larger scale quantities to a predefined set of parameters and performance specifications, often applicable to a wider array of uses and applications. Off-the-shelf products may sometimes be referred to as a "standard" product and can range from basic commodity components to finished hardware products that can still be produced at scale via repeatable systems and processes. Examples of off-the-shelf fiber optics products are commodity items like connector adapters, patch cables, optical components, or even finished products like network devices that deliver a specific set of standard features as part of a manufacturer's product offering.
Custom products, on the other hand, are designed and manufactured to certain parameters and specifications that suit a particular need or use case. This process may be designing and building the entire finished customized product completely from scratch, or offering a baseline product style or approach that can then be further adapted to a customer's needs in terms of features, configurations, materials, size, or targeted performance
specifications. Examples of a customized fiber optic product include the M2 Optics Fiber Lab series of network simulator solutions, which are customized to include any fiber types, distances, and setup configurations a user needs to accurately replicate their intended network.
It is important to note that both off-the-shelf and custom fiber optic solutions are necessary and critical in today's fiber optic communication networks. The existence of low-cost, commodity components are essential for use in devices and network connectivity. Without standardized connection adapters for making connections between systems, for example, or standard-length patch cables to connect devices in racks, network communications could not exist within its current form. Just like mass-produced consumer products are essential, so are off-the-shelf fiber optic products that can be used and applied to many different application scenarios. That being said, there are many instances where using custom fiber optic products are absolutely critical or play a role in helping many companies achieve specific engineering goals, overcome constraints, or gain an advantage on their competition.
Custom Fiber Optic Product Benefits
Engineering teams across multiple types of entities face challenges and constraints every day, whether it's finding a way to save rack space when installing more gear into a field cabinet with minimal space, meeting budget objectives, struggling with procurement of materials, or simply finding creative ways to maximize the value of an investment. Let's take a look at a few ways custom products can benefit fiber optic engineering teams.
Achieve Greater Efficiencies
Since off-the-shelf and standardized products are designed to serve a wider array of needs, they may ultimately work for specific applications, but it doesn't always mean they will be the most efficient in terms of space, cost, or project goals.
As an example, using two individual standard 50km lengths of bare optical fiber on factory spools for simulating a duplex 50km field link will work, but what if only 3RU of rack space and using factory-sized spools requires 6RU? Furthermore, if the actual field link is 40km, now the user is both paying for extra fiber they do not need and has to account for the extra fiber distance from a performance specifications standpoint. In both these instances, a customized product and setup configuration will provide the user with a more efficient setup that matches their requirements.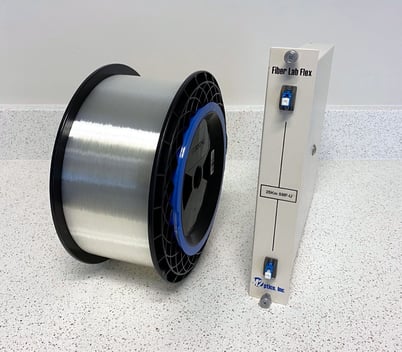 Customized Fiber Lab solutions from M2 (like the Flex Module shown here containing the same 25km length as the factory spool) protect your fiber investment and can save 65% or more space.
Solve Unique or Challenging Problems
Every network is different which presents challenges to both equipment manufacturers and network operators seeking to maximize or maintain a high level of performance. In some cases, a standard off-the-shelf product may not provide the perfect solution to a problem, or in other cases there may not even be an off-the-shelf product available in the market to solve an issue.
Engaging with a qualified custom fiber optic products manufacturer can help overcome these obstacles. Whether it's modifying an existing product or producing a brand new product designed to the specific needs of the project, in some instances going the custom product route may be the best or the only option available.
Save Time and Money
There is often a general belief that buying custom products always costs more and has longer lead times. This comes from the fact that while many businesses state an ability to customize their products, if they don't maintain a primary focus on producing custom products or they are not setup efficiently to regularly support those demands in terms of having the right people, processes, and capabilities in place, higher costs and longer lead times are typically the result.
This happens frequently when seeking to acquire a custom product from large businesses. As a business grows, so do systems and processes which are designed to support larger-scale or mass production. It's absolutely necessary for large businesses to do this in terms of good business practices, but it does not lend itself well to producing customized solutions (if/when it's not a primary focus) as numerous and costly hurdles arise when regular operations must be stopped or changed to accommodate a non-standard process or project.
On the other hand, businesses that specialize in manufacturing
custom products are specifically setup in terms of expertise, processes, and equipment to be able to quickly design, prototype, and manufacture customized or non-standard parts and solutions. They can achieve efficiencies that other businesses cannot, resulting in both cost and time savings while delivering a solution that perfectly matches the needs of the user and provides all of the additional benefits.
Gaining an Edge on The Competition
Whether you are manufacturing or selling fiber optic equipment or providing fiber-based communications services and maintaining a network, any time you can integrate products that produce added benefits can help you to gain an edge on your competitors. Integrating custom-manufactured parts may enable
a device manufacturer to add new or different capabilities to a product, while a service provider implementing customized equipment in the network may allow them to serve greater numbers of customers or deliver different types of data services over their competition. Any time an entity is able to gain additional benefits whether it's offering something new or different, increasing efficiencies and cost/time savings, or helps to support their customers to a greater degree, there is an opportunity to gain an edge on the competition. Utilizing or integrating custom-manufactured parts has been proven to aid in this regard, not just in fiber optic communications but across the entire B2B and B2C economic spectrum.
Maximize Return on Investment (ROI)
All of the above benefits of using customized fiber optic products lead to one major benefit which is maximizing the return on investment. As noted earlier in the article, using customized fiber optic solutions may only be a good fit or possible consideration for certain applications or areas of a project, but going this route when it makes sense can deliver numerous benefits, some of which are highlighted above. Given these positive benefits, it makes sense to consider working with highly qualified manufacturers of customized products whenever possible.
Consider a Custom Fiber Optic Product Manufacturer for Future Projects
To summarize the key takeaways from this article
Both off-the-shelf and custom fiber optic products play an integral role in the market. While customized fiber optic products may only be applicable to addressing certain project needs, using them when/where applicable can deliver significant operational and competitive benefits while maximizing ROI.

Customized fiber optic products play an integral role in helping engineering teams address challenges and obstacles, enhance network capabilities, and provide a solution or added benefit where one previously did not exist.

Just because a product is customized does not always me

an it will cost more or take longer to manufacture. Entities focusing on custom product design and production can often achieve efficiencies others cannot, while custom solutions often deliver added benefits that a standard/off-the-shelf product may not.

Proactively seek out opportunities to integrate or utilize custom solutions and evaluate qualified manufacturers, rather than settling for a standard item and trying to make it work for an application. A little bit of due diligence or connecting with the right partner can make a major difference in terms of achieving engineering, performance, operational, or competitive objectives.
Learn More about Custom Fiber Optic Solutions
Since 2001, M2 Optics has focused on designing and manufacturing customized fiber optic solutions for entities around the world that are building and maintaining fiber-based communications networks and devices.
Combining a shared team passion for optical fiber with years of design and manufacturing expertise, M2 Optics utilizes the latest production technology including additive manufacturing to deliver custom solutions in a rapid, cost-effective manner. With a primary focus and vested interest in always helping people solve challenges, many of the most recognized entities in the Telecom, Data Center, Defense, Financial, Utility, and University markets rely on M2 for supporting advanced fiber optic communications testing and networking applications.
Learn more about M2's customized solution portfolio today: