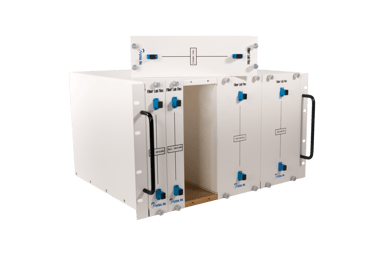 The Fiber Lab Flex from M2 Optics is a unique platform designed to offer engineers with maximum versatility when requiring optical fiber spools for network simulation, latency, training, and other testing and networking applications.
The 6RU chassis is capable of holding up to 10 individual fiber lengths in standard modules up to 25km each, 5 double modules to 60km each, or 3 triple modules to 75km each of any fiber type. The removable modules allow for a wide array of length and latency options, as well as the ability to re-configure the setup quickly if necessary.
Since optical fiber requirements often arise and/or change over time, the chassis is scale-able in that new fiber lengths can be added at any time, without necessarily requiring a new chassis.
Similar to other Fiber Lab solutions, every Flex chassis is customized to your exact needs - contact us today and we'll help you to determine the best solution for delivering maximum value for your project.
Similar Solutions