In both test laboratories and field networks, optical fibers play an integral role in network simulation and latency applications. Equipment manufacturers require fiber for simulating field networks and demonstrating their devices, while service providers utilize specific lengths to add latency and/or synchronize optical signals being transmitted within in the system.
While there are different approaches to address these types of applications, the best practice is to utilize spools of real optical fiber to achieve the most accurate results along with similar performance characteristics.
The Fiber Lab series from M2 Optics offers the most professional solution approach for anyone requiring optical fibers for these types of applications. Customized to each user's requirements, these rack-mount and portable platforms ensure consistent performance results, while protecting and organizing the valuable fiber in the most efficient manner.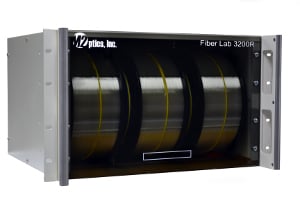 Fiber Lab for Network Simulation & Latency Applications
All types of optical fibers from Corning®, Draka®, and OFS®
Any specific lengths by distance or latency values
The largest portfolio of enclosure and configuration options in the market


View Fiber Lab Solutions