Versatile, Modular Optical Time Delay Solution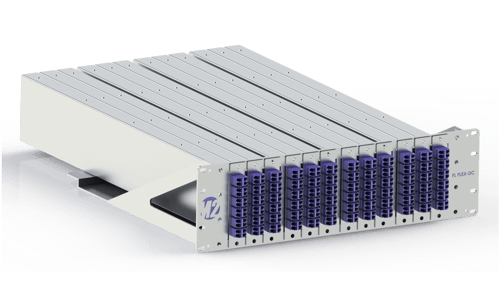 Features:
Up to 144 precise optical time delays in 3RU
Fully-customized to user specification
Modular and scalable for easy deployment
Supports SLAs and industry compliance
Ideal for equalizing link latency and system sync/timing applications

The Fiber Lab Flex DC is the ideal solution for data center engineers tasked with efficiently deploying optical time delays for latency-driven applications. Using an LGX-style HD module approach, each can accommodate up to 12 individual time delays achieving a total of 144 in just a single 3RU rack-mount chassis.
Along with saving valuable rack space, each time delay can be manufactured to sub-nanosecond accuracy at the user's request. This allows for fine-tuning system timing when equalizing link latency, synchronizing signals, or meeting stringent SLAs and other industry compliance standards.
Take the hassle out of installing and maintaining optical time delays with this re-configurable solution that quickly adapts and changes as your needs grow. The Fiber Lab Flex DC is currently patent-pending.

Contact M2 Optics to begin customizing your Fiber Lab Flex DC today:
Quantity of delays (per module, total)

Specific time delay values

Fiber type - any single mode, multimode, and specialty

Connector type - LC standard for HD, contact for others