The Fiber Lab 3200R is the perfect solution for both engineers and sales team that are seeking to showcase lengths of optical fiber for network and latency simulation during testing and demonstration applications.
Fully-customized and offering four (4) individual fiber spools with up to 80km each (320km total) in just 6RU, the FL3200R includes a transparent front panel and connection interfaces on the rear panel, resulting in an eye-catching, highly professional solution for enhancing the look and performance of the test/demo setup.

Special Feature: For those seeking to take their setup to the next level, the FL3200R is the only solution of its kind to offer the option of remote-controlled, integrated LED lighting for enhancing the visibility or highlight spools of fiber being used.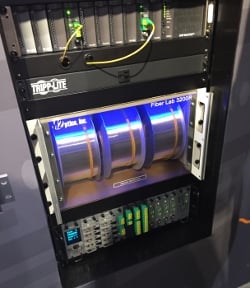 To learn more or begin designing a FL3200R for your lab or demonstration application, contact M2 Optics or an authorized local sales partner today.
Similar Solutions