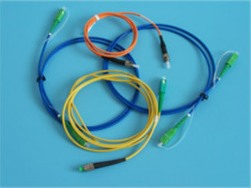 Benefits

Rugged and flexible
Low insertion loss
High return loss
High reliability / stability

Applications

Telecommunications networks
CATV; Data Distribution
Local Area Networks
Passive Optical Networks
Armored fiber patch cords are available in standard and non-standard lengths. They provide consistent high reliability and stability. Both simplex and duplex varieties have the same jacket, armored cord, and Kevlar strength members with the only difference being the coating on the fiber. All have excellent return loss (SCAPC typical: >65dB), low insertion loss (typical: <0.2dB), and are rugged, flexible and easy to install. These assemblies are superior for rough handling applications such as head ends, engineering and lab environments.
Detailed Information:
Download Data Sheet