Learn More about Single Mode and Multimode Optical Fibers
from Corning®, OFS®, and Prysmian®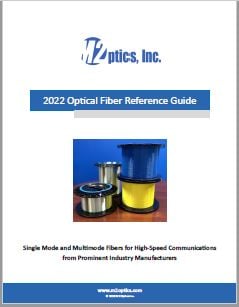 The 2022 Optical Fiber Reference Guide is intended to serve as a helpful reference tool for anyone working with or seeking to learn more about optical fibers utilized in today's high-speed communications networks. To request your copy, simply complete the form and a copy will be emailed directly to your inbox. If you have any fiber-related questions or you do not receive the email automatically, please contact us and the M2 team will support you quickly.
The Optical Fiber Reference Guide includes:
An extensive collection of the most popular and widely deployed single mode & multimode optical fibers

Single Mode and Multimode fibers and brands listed by industry-standard (G.652, G.655, OM3, etc) from leading global manufacturers:
Links to the technical datasheets for all fibers from the respective manufacturer's website

Note: M2 periodically updates this guide, however as new fibers are continuously developed throughout the year, there may be a few new fibers that have not yet been added to the document. Additionally, other manufacturers and specialty fibers are expected to be added in the future for the reader's further benefit.

Send My Free Copy