This useful reference tool enables you to quickly calculate the latency / time delay for any length of the most widely-deployed single mode and multimode optical fibers.
The calculator includes:
Single mode optical fibers: G.652, G.655, and G.657
Multimode optical fibers: OM2, OM3, OM4
Brands from leading manufacturers: Corning®, Prysmian/Draka®, and OFS®
Calculates delay value from distance, or distance from delay value
A downloadable spreadsheet file for quick access and offline use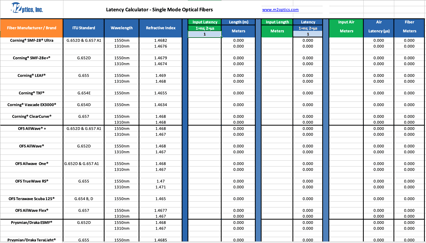 Be sure to check out our other free downloadable fiber optics resources.
Notes: After completing the form, you should receive an email with the link to download/view the file. If you do not receive it in the Inbox, please check the spam and/or other folders, as the system-generated email may arrive there as well.