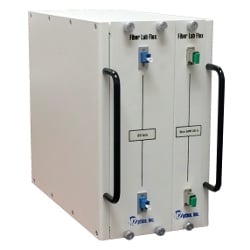 The Tri-Flex is the industry's first portable, multi-spool solution for engineers requiring the use of multiple fiber lengths or delays in a highly efficient package. Saving 50% or greater physical space versus using traditional factory fiber spools, the modular Tri-Flex organizes fiber while providing a reconfigurable and versatile approach for network simulation and latency / optical time delay testing, along with system demonstration and training applications.
Up to a possible 85km of optical fiber via a 1, 2, or 3 Flex modules
Add individual modules and/or re-configure as needs change
User-specified lengths of single mode, multimode, specialty, or ribbon fiber
Portable and rugged
Modules are interchangeable with the Flex rack-chassis platform
With many leading organizations around the world already using the Fiber Lab Flex, we are confident you will benefit in a similar manner.

Design A Tri-Flex
Ready to specify a custom configuration for your next project? Contact M2 or an authorized local partner with your preferences and our team will help to determine the most efficient setup configuration.
Fiber Type: Any fiber types from leading manufacturers Corning®, OFS®, or Prysmian®

Fiber Length Configuration Options:
3 standard modules (up to 25km each)

1 double module (up to 60km) + 1 standard (up to 25km)

1 triple module (up to 80km)
Connector Types: SC, LC, FC, ST, or MPO with any angle polish
Similar Solutions: