1xN, all-optical switch architecture
Single mode and multimode fibers
Wavelength-selective switching (WSS)
Low-loss and low-latency
Customized to user's requirements
The SwitchLightTM is a patented optical switching platform designed for network monitoring and test tool sharing applications. Users can easily route selected signals or wavelengths to a 3rd party test device or other location.
With the increasing complexity of communication systems and the requirement for automation to support monitoring efforts, optical switches are a key component in the network. While most switch vendors have focused on building larger matrix switches, M2 realized that certain monitoring applications are more suited to a dedicated 1xN switching device that doesn't require paying for additional ports that may go unused.
SwitchLightTM provides the ideal solution for applications of this nature. Customized to each user's requirements, the device incorporates a wide array of latching mechanical switches from 1x1 to 1x128, for both single mode and multimode fibers. Furthermore, through a patented approach integrating WDM and AWG components, wavelength-selective switching is a reality for those seeking to monitor selected wavelengths on individual ports, or combined back onto a single fiber.
The SwitchLightTM is available in a 1RU or 2RU chassis, depending upon the requested configuration. A built-in software API also allows for the use of multiple, popular scripting languages (TCL, Python, etc) for integration into any lab or network environments.


Example Configuration: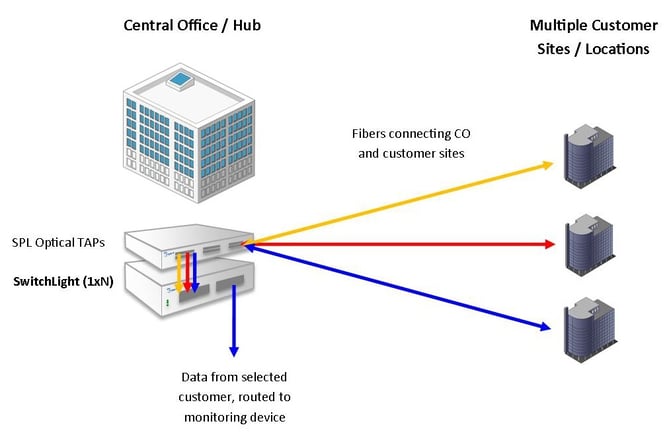 Contact M2 Optics today for more information, or to begin designing a customized switch for your next application.