Patented, all-optical switch architecture
Multicast and broadcast capabilities
Single mode and multimode switches
Wavelength-selective switching (WSS)
As part of a multi-function design approach, SwitchLightTM offers the ability to multicast optical signals, which is often required for applications such as transmitting video or data down multiple paths at the same time, 100G port replication, and more.
Unlike alternative solutions that often add significant cost and latency while also lacking customization, SwitchLightTM provides a more ideal solution for those seeking to achieve the most value when requiring optical multicast features.
Key Benefits:
Saves Money: Cost-effective design; multicast expensive 40G and 100G ports
Reduces Latency: All-optical; no OEO conversions
Minimizes Loss: Mechanical, low-loss switching with ability to integrate EDFA
Highly Selective Switching: Turn on/off individual channels, ports, or paths
Complete Solution: Optical multicast and monitoring switches available in same chassis
With the ability to integrate additional 1xN single mode and multimode optical switches along with WDM components, a user can select specific individual channels on an incoming fiber, then multicast the selected channels out via one or more paths on-demand. This unique combination of WSS and multicasting earned the SwitchLight a patent in 2016 by the USPTO.

Application Example (Basic Multicast for Single Channel)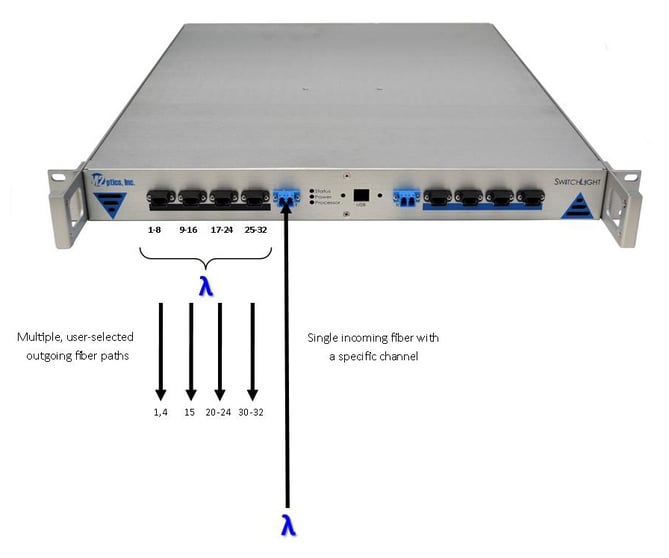 To learn more about the optical multicast switching capabilities of the device, please contact M2 Optics or a regional sales partner at your convenience.