In addition to the patent-pending 1RU SplitLight chassis, M2 Optics offers optical splitters, network taps, and WDMs in an LGX-style platform. Our ultra-high density modules provide a significant advantage over alternative solutions, allowing users to significantly reduce rack space requirements in the network environment.
Each LGX-style module offers up to 12 each 1x2, 1x3, or 2x2 splitters
Up to 144 splitters in standard 3RU chassis (via 12 modules)
Premium splitters with MTP Elite connectors
Available with WDM and AWG for wavelength-specific applications
Ideal for PON, Data Center, Telco, and CATV networks
Saves significant rack space


Contact M2 Optics today to learn more and customize a solution for your specific requirements.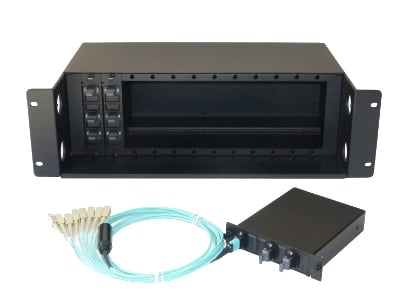 M2 Optics' experienced fiber engineers will help you to customize your orders for WDM modules and optical splitters.